Electric vehicles will grow from 3 million to 125 million by 2030, International Energy Agency forecasts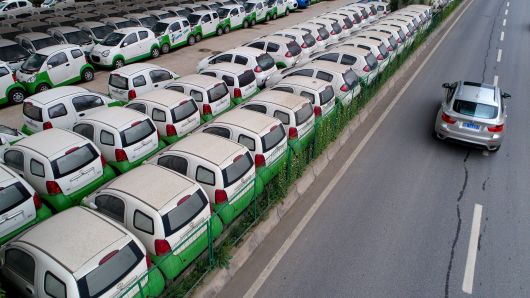 This photo taken on May 22, 2017 shows a car passing new electric vehicles parked in a parking lot under a viaduct in Wuhan, central China's Hubei province.
There will be enough electric cars on the road for roughly every person in Japan — the world's 11th most populous country — in just more than two decades, according to the International Energy Agency (IEA).
Electric vehicle (EV) ownership will balloon to about 125 million by 2030, spurred by policies that encourage drivers, fleets and municipalities to purchase clean-running cars, the policy advisor to energy-consuming nations forecast on Wednesday.
That marks a big jump from 2017, when the IEA estimated there were 3.1 million electric vehicles in use, up 54 percent from the previous year.
IEA's outlook still leaves plenty of room for fossil fuel-powered vehicles. Forecasts put the world's total car count at roughly 2 billion somewhere in the 2035 to 2040 window.
However, the IEA also sees a pathway to 220 million electric vehicles by 2030, provided the world takes a more aggressive approach to fighting climate change and cutting emissions than currently planned.
While battery costs are falling, the IEA acknowledges that government policy remains critical to making EVs attractive to drivers, spurring investment and helping carmakers achieve economies of scale.
"The uptake of electric vehicles is still largely driven by the policy environment," the IEA said in the report. "The 10 leading countries in electric vehicle adoption all have a range of policies in place to promote the uptake of electric cars."
Policies in place today will make China and Europe the biggest adopters, in the IEA's view. In China, credits and subsidies will help EVs grow to account for more than a quarter of the car market by 2030. Meanwhile, tightening emissions standards and high fuel taxes in Europe will boost the vehicles to 23 percent of the market.
As for the United States, the IEA sees electric vehicle deployment growing at two speeds. While it sees "rapid market penetration" in places like California and other states with zero emissions plans, relatively low taxes on fuels and the Trump administration's intentions to scale back vehicle emissions standards could hold back growth.
China is already becoming a behemoth in the space. New electric car sales surged by 72 percent, or 580,000 units, in 2017, pushing total ownership over 1 million vehicles. The country is also driving growth in electric buses and two-wheeled vehicles, accounting for about 99 percent of the world's stock of the fast-growing categories.
Still, Germany and Japan posted the biggest electric vehicle growth in 2017, with electric vehicle sales more than doubling from 2016.
There are also regional differences when it comes to the type of electric vehicles consumers are gravitating towards. The IEA measured the strongest orientation to pure battery electric vehicles in China, France and the Netherlands. Meanwhile, Japan, Sweden and the United Kingdom have the highest share of plug-in hybrid cars.
Norway remains the leader when it comes to market share. Electric vehicles accounted for 39 percent of Norway's new car sales last year, and 6.4 percent of the country's cars are powered by electricity. That makes Norway the leader in both categories.
But in another sign of the importance of policy, Norway is the only member of the IEA's Electric Vehicles Initiative that saw annual sales volume and market share fall between 2013 and 2017. The IEA chalks up those declines to a change in the way the tax system treats private use of company cars and the end of tax incentives last year for plug-in hybrids.
More